Graduating Student Employment Service (GSES) Information Session for Students Graduating in 2022
Jun 15, 2021 05:30 PM to 06:30 PM

Registration Deadline: Jun 15, 2021 06:30 PM
*Please register in Navigator to recieve the Zoom link.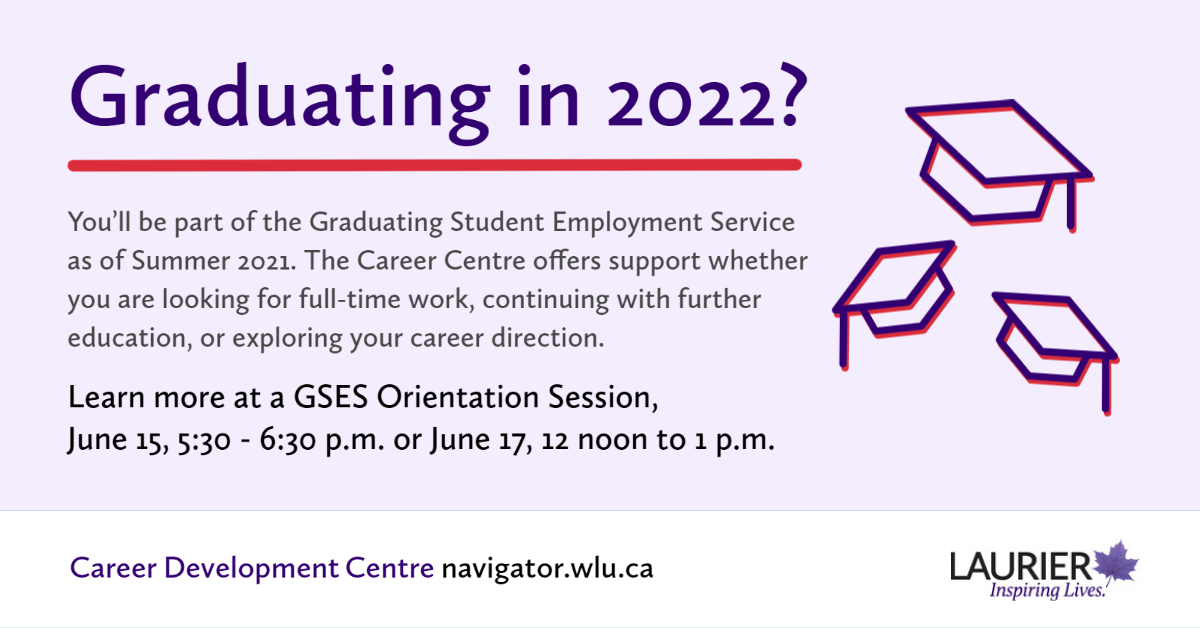 Graduating in 2022 and looking to start full-time work after you complete your studies at Laurier?

The Graduating Student Employment Service (GSES) attracts top employers looking to recruit final-year students (undergraduate and graduate students) for full-time positions that start after graduation. Employers start posting opportunities as early as this coming July/August and throughout the next year. Roles in accounting, finance, capital markets and rotational programs are some of the earliest postings, so we recommend that you prepare for your job search this spring and start actively looking for jobs in Navigator this July/August.

Important Note: We work with employers (for-profit and not-for-profit) representing almost every employment sector in Canada; however, we can not predict when a particular employer may post with us. It is important to check Navigator for job postings regularly. In this way, you can be sure that you will not miss a job that could be of interest to you.

To learn more about the GSES program and how to prepare for searching for a job, we invite you to attend:

GSES Orientation Session - June 15, 5:30-6:30 p.m. and June 17, 12 noon to 1 p.m.
Attend one of these orientation sessions to learn how to prepare for your job search and how to utilize the GSES program in your final year of studies at Laurier. We will provide you with information and advice for career planning and searching for work with special consideration to the impact of the pandemic on the labour market.

FAQs

What are the key aspects of the program?
Full-time employment opportunities targeting students in their final year of studies at Laurier. Opportunities to network with employers through recruiting/information sessions. Career Centre supports and resources including career planning, job search and application support, further education planning and application assistance and more!

When does the GSES program commence and end?
GSES launches August and continues through to the following June. Employers begin posting jobs as early as July for positions that start no earlier than the following spring.

Do I need to register for the GSES program?
No, students in their final year of study are automatically registered in the GSES program by early August. You will know that you have been successfully registered because you will see a new position type search option in Navigator called 'Graduating Student (GSES)'. You will also start to receive the GSES newsletter by email in August. Contact the Career Centre if you are concerned that you have not been registered properly.

If you have any questions please connect with Louise Boulanger (lboulanger@wlu.ca) or Lisa Favero (lfavero@wlu.ca).

We are committed to providing inclusive programs and services to all students and alumni. Please contact us at recruitlaurier@wlu.ca if you require accommodation(s) to attend this event.